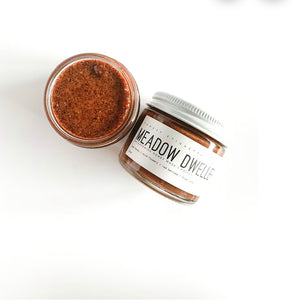 Meadow Dweller
Regular price
Sale price
$37.00
---
Meadow Dweller is a natural, fermented, vitamin C rich raw honey and herb facial mask and polish. It comes as a very thick, concentrated paste that is meant to be activated with a little bit of water, and even blended with other offerings to up the moisturizing or cleansing properties.
Meadow Dweller is made from a base of raw, Vancouver Island honey and pink kaolin clay. To this base, skin softening organic coconut milk powder, castor bean oil, strawberry seed oil, and a herbal infusion of wild fireweed flower, purple echinechea, Nootka rose, hibiscus, and common mugwort are added. The base is then blended with an ultra vitamin c rich mixed wildflower and berry powder blend, as well as 1% fruit derived alpha hydroxy acids to encourage gentle exfoliation. Antioxidant powerhouses like strawberry, elderberry, rosehip, cherry, BC blackberry, and hibiscus are mixed with skin soothing and toning allies like lavender, cherry blossom, and frankincense to create a facial mask and polish that brightens and moisturizes, while gently pulling out impurities and supporting the natural production of collagen to maintain soft, supple skin.
To use Meadow Dweller, simply scoop about 1 tsp into the palm of your hand (it will feel quite thick to begin with), and blend with a few drops of water. From here, you can easily apply a thin layer of the mask to your skin as is, or combine with 1tsp of the cleansing balm, sunshine balm, or chamomile balm to increase the skin softening qualities.
Allow to rest on the skin for 10-15 minutes, and then wet your fingers and massage in a circular motion to exfoliate. Wipe off with a warm damp wash cloth, and then cleanse, tone, and moisturize as usual.
All of the herbs used in this mask are organic, locally harvested, or sustainably wild harvested.
Store out of direct sunlight and in a cool (room temp.) dark place.
A 24 hour patch test to explore any potential skin sensitivities is highly recommended. Forest Etiquette assumes no responsibility for skin reactions caused by sensitivities to essential oils or other ingredients.
Ingredients: mel (raw honey)*, Helianthus Annuus (Sunflower) Seed Oil*, kaolin, Cocos Nucifera (coconut) powder*, Ricinus Communis (castor) bean oil*, Fragaria Ananassa (Strawberry) Seed Oil, Rosa canina L. (rosehip) extract, Sambucus nigra (elder) berry*, Rosa nutkana (nootka rose) petal*, Hibiscus flower*, Prunus serrulate (Japanese cherry) petal*, Prunus cerasus (sour cherry) powder*, Rubus (blackberry) powder*, Fragaria × ananassa (strawberry) powder, Ananas comosus (pineapple) extract powder, Lavandula angustifolia (lavender) flower*, Boswellia carteri (frankincense) powder*, Benzyl Alcohol, Salicylic Acid, Glycerin, Sorbic Acid, Echinacea purpurea (purple coneflower) extract*, Chamaenerion angustifolium (fireweed) leaf and flower extract*, Rosa nutkana (nootka rose) flower extract*, Hibiscus rosa-sinensis L. (hibiscus) flower extract*, artemisia vulgaris (mugwort) leaf extract*, aqua, Lactic Acid, Glycolic Acid, Vaccinium Myrtillus Fruit Extract, Saccharum Officinarum (Sugarcane) Extract, Citric Acid, Citrus Aurantium Dulcis (Orange) Fruit Extract, Citrus Limon (Lemon) Fruit Extract, Acer Saccharum (Sugar Maple) Extract, Tartaric Acid, Malic Acid
*organic / wildcrafted